— Focus — Strategy
Strategy
Platform for growth
Our heritage is one of designing, developing and manufacturing high-precision delivery devices for the healthcare and consumer & industrial markets. Building on our core competence of plastics injection molding and our in-depth automation expertise, we have expanded from Industry applications into the Dental, Drug Delivery, Surgery and Beauty segments. In each of our segments, we have identified profitable and resilient niche markets with strong customer relationships, and long-term growth, supported by global trends such as a growing middle class, an aging population, increased urbanization, self-administered treatment and sustainability.
High-precision delivery devices in attractive end markets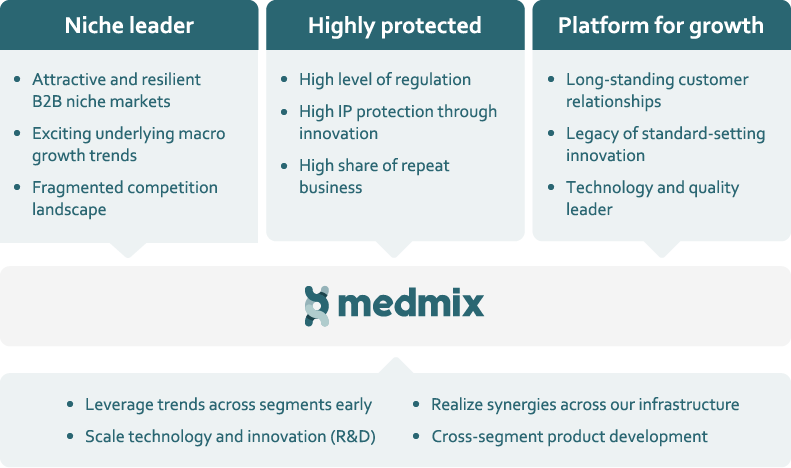 We believe that we benefit from long-standing customer relationships and positive macro trends in the end markets we address, which we expect to provide us with significant growth opportunities as we expand our target markets.
Innovative, trend-oriented product development
We are a lean, innovative and customer-centric solutions provider and aim to further exploit our strategic setup across all segments by leveraging our industrial DNA – creating synergies and scale through knowledge sharing across the medmix group.
In particular, we strive to leverage early trends and best practices across segments. In this context, we were able to further advance innovation, with a sustainability mindset, in all segments, as part of the medmix DNA. Especially in the Beauty segment further sustainability achievements were made as medmix was awarded the EcoVadis Platinum Medal for Sustainability, thus placing our Beauty business in the top 1% of the companies rated within this industry. Not only were we the first company in the Beauty industry to achieve this distinction, we also have been able to maintain it for the third year in a row. Additionally, we cemented medmix as a pioneer in the Industry segment as our sustainable EcopaCCTM and greenLine™ product offerings have been favorably received by the market. We are committed to reducing the CO2 footprint of our whole supply chain in the coming years, providing our customers with sustainable solutions.
M&A focus
We have an established M&A track record over the past 16 years, by concentrating on acquiring companies that ensure a strong strategic fit with our existing product offering globally. Our M&A strategy comprises two pillars:
For Healthcare, we aim to focus on expanding our core product portfolio and enter into adjacencies

For Consumer & Industry, our focus will be local-for-local acquisitions in China to take advantage of the growth in the local markets
During 2022, we acquired the plastics business of Universal de Suministros, S.L., Valencia, Spain, enabling medmix to rapidly scale up production for our Industry segment, replacing the capacity from our closed plant in Poland and accommodating the growing demand from European and global customers.
"Our long-standing M&A expertise, demonstrated over the past 16 years through strategic company acquisitions, reinforces our dedication to expanding our product offering globally."

Jennifer Dean

Chief Financial Officer
One year as an independent company
We advanced our spin-off and closed 2022 as our first year in full independence. We have served the needs of our customers without a transitional impact from the spin-off. The listing on the Swiss stock exchange has helped medmix to sharpen the company's profile as an emerging healthcare business, increasing our visibility both to investors and customers. It also contributed to our profile as an employer, helping to attract talent from around the world.